YOUR CAREER CHANGE TEST RESULTS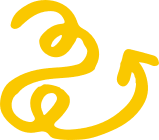 Congratulations for taking the test
Your full report will be landing in your inbox shortly. Ahead of then, here's a 20-second summary of the most important points.
You're at the 'Browser' stage
As a Browser, you're starting to take actions to try to improve your career situation, but you're not yet committed to making a shift. Your primary question is 'Am I ready now to do something about this?'
You likely feel frustrated about your career, stuck on what else you can do, and confused about next steps. You have moments of motivation to do something, but then, more often than not, your other responsibilities in life win over. Progress feels slow, directionless and haphazard.
There are four key mistakes to avoid
1. Making assumptions about what is / isn't possible
2. Getting trapped by rear-view mirror thinking: starting with what's on your CV / resume is not the best to start
3. Being put off by the opinions of others
4. Getting stuck into job hunting
Inspired to do more?
Join more than 10,000 people who've kick-started their career change with our 'How to find the work you love' online workshop.