Masterclass Expert Information
Masterclass Expert Information
Our online Career Change Masterclasses are 1-hour interactive discussions with subject matter experts on specific career change topics. They're designed to leave our participants with actionable insights to help them move faster towards fulfilling work.
Most of our experts find the primary benefit of taking part in a Masterclass is an opportunity to gain visibility in front of our 1m+ annual audience and our 180k+ mailing list.
Guests also enjoy adding direct value to our participants in a fun and interactive way. We're also happy to mention a guest's book or podcast during our promotion and follow-up from the Masterclass.
Who are our Masterclass experts?
We've worked with experts from the UK, USA and Europe. See our Masterclasses for more details.
We generally choose panellists who have:
Authored a book or have a well followed blog or podcast in the area you're most passionate about, that's in a subject relevant to our audience
Enjoy speaking TEDx style to large online audiences
Who are our audience?
They're mid-career professionals, bright and highly motivated, but have a strong feeling that they're in the 'wrong' career for them, and it's time for a change. And crucially, they're stuck in terms of navigating a shift. They want help and practical strategies with real life examples on how to move forward and find clarity.
They're mainly located in the UK, USA, Canada and Europe, and are roughly divided 65% female / 32% male and 3% other. We also have a number of career coaches who regularly attend the Masterclasses.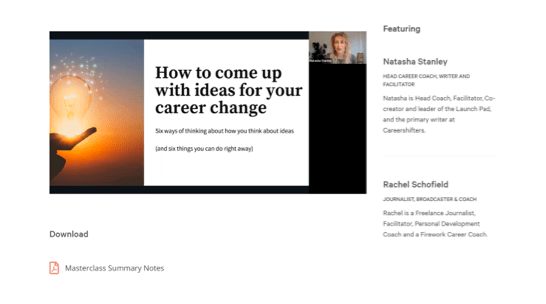 What's the format of the Masterclass?
Our Masterclasses bring experts into direct conversation with our audience. They're held on Zoom Webinar, on a Tuesday evening, from 20:00 - 21:00 UK time.

They're split into two sections:
A presentation from our panelist for 20 minutes (TEDx style) focused on three or four key learnings, with real life examples and a handful of slides
Q&A session with our audience for the remaining time
Our Masterclass moderator will facilitate the session, including the Q&A.

Afterwards we share the recording and a Summary Notes PDF (detailing the key learnings, references and links from the Masterclass) with each participant.
What's the time commitment?
We do our best to make the process as smooth and easy for you as possible.
We want you to feel fully prepared and comfortable ahead of your Masterclass and so hold:
A 45 minute 'Introductory Call' to meet our team, answer questions, discuss 3 or 4 initial content ideas and to see if a Masterclass is a good fit on both sides.
A 20 minute week before call to run through any questions that have come up
A 30 minute pre-call before the hour long Masterclass and a 15 minute debrief afterward (to capture your feedback)
We ask that you prepare a handful of slides to illustrate your presentation, which we're happy to assist you with. In between call's we'll send
What are the fees?
To be as fair as we can, our honorarium fees for our experts are based on 25% of the total net sales for the live event.
This starts from a minimum payment of £250 ($345 / E290) and averages at £490 ($680 / E575)
We're happy to promote your book(s), website and other social media, in our Summary Notes PDF, prepared following the Masterclass.
We'll also share with you a social media promotion pack, to promote your Masterclass with your own audience
What have previous experts said?
What are the next steps to take this further?
The next steps are to arrange an 'Introductory Call' to meet our Masterclass team, ask any questions, explore content ideas and let both of us see if this is a good fit